You could be losing out on a tremendous opportunity if you're not using Instagram Stories for business.
Instagram Stories are not only entertaining and inventive, but they're also one of the most effective ways to increase engagement, brand recognition, and even revenue.
We cover everything from content planning to design in our Ultimate Guide to Instagram Stories, so you can build the best Instagram Stories to boost your business in 2022.
What is an Instagram story?
Instagram Stories allows Instagram users to share photos and videos to their Story — which is visible to followers of the user's Instagram account. Recently-posted Stories are denoted by a gradient border around the user's profile picture. Like Snaps in Snapchat, Instagram Stories disappear after 24 hours.
Your Instagram Story is published separately from the photos and videos found in the tiled gallery of your Instagram profile. And although you might know the basics of sharing them, there are hidden tools within the app that can make the photos and videos you add to your Story more creative and engaging.
Why Instagram Stories Are a Powerful Tool for Business
Instagram Stories, which have over 500 million daily users, is a terrific method to reach out to new customers and strengthen relationships with existing ones.
Instagram Stories were first introduced in 2016 and have since gained in popularity on the platform. In fact, since the introduction of stories, the average number of feed posts published by influencers has decreased every year.
As consumers expect a more authentic connection from the brands they support, 24-hour stories have risen as the perfect outlet for off-the-cuff to-camera content with minimal post-production.
Instagram Stories have continually evolved over the last few years — introducing more engagement-boosting features that are great for starting conversations, humanizing your brand, and getting real-time feedback straight from your target audience.
So if you're not regularly publishing Instagram Stories for your business, you could be missing out on a huge opportunity.
Instagram Stories Specs
Create high-quality Stories by using the best possible images and videos.
The size requirements for Instagram Stories are:
Stories images: Instagram image story: 1080 x 1920
Stories videos: Instagram video story: 1080 x 1920.
Video length: 15 seconds
How to Boost Engagement with Instagram Stories for Business
From one-click surveys to immediate emoji slider stickers, Instagram Stories has a plethora of simple features that encourage audience participation.
If you're running out of ideas, Instagram's new Create mode features a ton of pre-populated stickers that will help you get creative and increase interaction.
Decorating your stories with a handful of these features each week can be great for driving more audience interactions, which in turn can work wonders for boosting your overall ranking with the Instagram algorithm.
Instagram Stories Engagement-Boosting Features #1: Poll Stickers
Poll stickers are one of the quickest and easiest stickers for your followers to get involved in, making them a great option for an instant engagement boost.
Polls are a great way to get more audience engagement, and the simplest ones generally work best.
Content providers, for example, frequently share polls to ask their audience about a new content idea. These may seem like simple topics to discuss, but they're a great way to build a greater feeling of community on Instagram.
You may take advantage of this opportunity as a brand by asking your customers which colors they like, what goods they prefer to use for specific settings, or by focusing on current events that connect with your corporate values.
Instagram Stories Engagement-Boosting Features #2: Emoji Slider Stickers
Emoji slider stickers are another easy engagement opportunity for stories and can be surprisingly versatile thanks to the huge amount of emojis on offer.
Not only are they great for getting a quick sentiment reaction, but they can also be used more creatively too.
This creative solution is great for making viewers feel personally involved, so they are more likely to engage with their content and take note of any product recommendations.
Instagram Stories Engagement-Boosting Features #3: Questions Stickers
Since their release, questions stickers have been immensely popular — and for good reason: they're great for generating more interactions.
Questions stickers are a great method to get rapid responses from your audience, whether you're collecting feedback on items or seeking questions for a Q+A.
You may immediately respond to any submissions by DM or a new Instagram story, closing the loop and ensuring a positive user experience.
Instagram Stories Engagement-Boosting Features #4: Quiz Stickers
If you're looking for a quick and fun way to encourage more clicks from your audience, Quiz stickers are where it's at.
They can also be a fun and light-hearted way to communicate your brand story, or details about a new product launch. For example, you could share a quiz about your company mission, or the year your business was founded.
Instagram Stories Engagement-Boosting Features #5: Chat Stickers
Instagram also released the Chat sticker, which is a great tool for setting up a quick chat forum with up to 32 participants.
You can cherry-pick who is accepted to join the chat and can lead a conversation on a topic that matters to you or your business goals.
Due to the limited number of participants, this can be a great resource for testing out new product ideas or marketing concepts with an engaged focus group.
Instagram Stories Engagement-Boosting Features #6: Go "Live" on Instagram
If you're looking for an instant engagement boost, going live on Instagram Stories can be a great strategy.
Not only is this a good way to capture your followers' attention, but it's also an excellent forum for encouraging tons of questions and comments.
ENGAGEMENT-BOOSTING TIP: Going live triggers a notification to followers who are using the app at that time, so it's worth going live when the majority of your audience are already online.
How to Drive Sales from Instagram Stories for Business
Instagram Stories are packed with features that are ideal for grabbing people's attention, piquing their interest, and, most importantly, converting them into repeat customers.
Even if you don't currently have 10K followers, there are plenty of ways to use your Instagram Stories strategy to efficiently increase traffic – and revenue!
Instagram Stories Sales-Driving Features #1: Product Stickers
"Product" stickers are a wonderful place to start if you want to generate more sales directly from Instagram Stories.
No matter how big or small your following is, the sticker allows you to tag individual products in stories, just like you can with regular Instagram shopping posts, creating an extremely streamlined manner for your audience to shop for your products.
Instagram Stories stickers that are available for purchase can be used on both photographs and videos. Furthermore, because the Product sticker is available in both transparent and color varieties, it can be modified to meet practically any Instagram Stories aesthetic.
This simple sticker is one of the easiest ways to drive conversions directly from your Instagram Stories, which may be a game-changer for businesses with less than 10k followers!
Instagram Stories Sales-Driving Features #2: Links
If you have over 10K followers on Instagram, you're one of the lucky accounts that can add direct links to stories.
Although this feature is a no-brainer for increasing conversions, there are a few methods to make it even more helpful for your business.
To begin, advertising a link in your Instagram Stories is always a good idea. When it comes to driving clicks, providing a concise explanation for why someone should "swipe up" is an excellent place to start, whether it's done vocally or through a text caption.
Equally, it's a good idea to add an eye-catching GIF that encourages more "swipe up" activity. If you have a custom "swipe up" GIF then you're way ahead of the game — but if not, there are a ton of ready-made options to choose from.
UNDER 10K TIP: If you're yet to unlock the "swipe up" link, an effective tactic is to encourage your stories' viewers to click your link in the bio. You can always use text captions or verbally prompt your viewers to head to your link in the bio from your stories, as well as use one of the many fun GIFs to help along the way.
Instagram Stories Sales-Driving Features #3: Countdown Stickers
The Countdown sticker is an awesome tool for building hype around an upcoming product release or sales event on Instagram — which is great for generating more sales.
You can use the countdown stickers to build anticipation around your products, creating a pool of excited customers before their products are even available online.
SALES-BOOSTING TIP: Make this sticker even more effective by encouraging followers to tap the sticker and set a reminder for when the countdown ends.
Instagram Stories Sales-Driving Features #4: Instagram Stories Ads
There are always Instagram Stories ads if you've exhausted all of your organic possibilities for driving revenue using Instagram Stories.
Instagram Stories ads are a great method to show off your company, products, and brand to an existing engaged audience.
According to Instagram, 75% of Instagram users take action after seeing Instagram ads, such as visiting a website or completing a purchase.
So, if you want to use Instagram Stories to increase sales, consider investing in an Instagram Stories ads plan!
Using Facebook's Ads Manager, you can create Instagram ads that show up within Instagram Stories.
Once you've determined the audience that you want to target and the objective of your campaign, make sure you select Instagram Stories as your ad placement and follow the prompts to set up your ad.
Alternatively, you can "promote" an organic Instagram Stories post into an ad, which is a great way to test the waters first.
Luckily, Instagram ads have all the same targeting options as Facebook ads, including targeting based on location, demographics, interests, behavior, and more.
How to Get More Views on Instagram Stories for Business
Alongside Instagram Stories ads (covered above) there are many ways to boost the virality of your content — and the best thing is, they don't cost a thing!
How to Get More Instagram Stories Views #1: Add Hashtags and Location Tags
When it comes to increasing your reach organically on Instagram, hashtags, and location tags are hands down one of the best ways to do it!
And Instagram Stories get their own dedicated space at the top of a hashtag or location search result page — so if you're not adding hashtags to your stories yet, now's the time to start.
Adding a location can help you increase views because as people search for locations, they'll be able to scroll through the stories attached to that location too!
You can add as many as 10 hashtags to each Instagram story, including 1 clickable hashtag sticker — and they should always be relevant to your content and target audience.
To optimize your story hashtags, consider the subject matter of your story, what your target audience is likely to search for, and the volume of posts for each hashtag.
And if you're worried about how hashtags will impact a carefully crafted aesthetic, fear not! There are a few hashtag hacks to make them seamlessly fit in with your post, or be hidden completely.
For example, you can make your text-based hashtags smaller (just 'pinch' the text) and hide them under a GIF or sticker.
Or you can blend your text-based hashtags into the background of your Instagram Stories.
Just select the color picker tool from the text option and choose a color that perfectly matches your Instagram story background.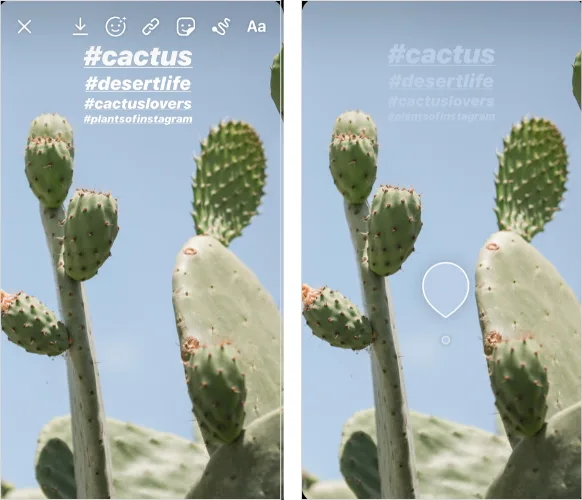 DESIGN TIP: Don't make your hashtag text too small — if it becomes illegible, Instagram won't pick up on it and it's unlikely your post will appear in any hashtag searches.
How to Get More Instagram Stories Views #2: Post Consistently
It may sound like a pretty basic tip, but consistently posting can be one of the simplest ways to drive up your Instagram story views.
The more consistently you post Instagram Stories, the greater chance you have of reaching your audience as they tap through their stories feed throughout the day.
As with each new story, you'll be bumped to the top of your followers' feeds — creating a positive snowball effect for your content exposure.
Creative Growth Hacks for Instagram Stories for Business
As you can see, the list of opportunities for creating impressive and highly effective Instagram stories is endless. But to make sure you are distinct from the others and attract attention, check out the following growth hacks:
1. Create Instagram Stories AR Filter
An Instagram Stories AR Filter is just superimposing virtual computer-generated and/or video effects on top of a real-world image, creating a combined image.
The most common use for these on Instagram has been as face filters in Instagram Stories. You can add numerous types of filters to your photos and videos.
As Instagram opened Spark AR Studio to the public, it made it easier for anyone to create and submit their own augmented reality filter to show on Instagram.
Unlike the features mentioned above, this tool requires advanced design skills, but when used regularly, it helps brands get wider exposure.
Spark AR is a complex tool that requires a fairly advanced skillset — but with the right design help, this can be a seriously effective way to help your brand reach new audiences.
To get started, download the app and start experimenting! 
2. Develop your branded GIFs
Another way to reach new audiences is by adding a branded GIF to the Giphy Library.
By doing this, your branded GIFs will be discoverable by anyone searching for GIFs in Instagram Stories — which can be huge for reaching new audiences.
To do this you will need to create a Giphy brand channel and apply to get it verified.
The good news is that this process is pretty quick, but the bad news is that because of the verification restriction, small businesses may not get approved.
Use Instagram Stories Highlights for Your Business
Instagram Stories Highlights are the best way to extend the 24-hour shelf life of your stories, giving them a greater reach and more visibility.
With this in mind, it's a good idea to use your Instagram Stories Highlights strategically. For example, you may want to create a highlight for stories that drive the most traffic for your business.
For the best results, make sure your highlights are updated regularly. Adding new stories to a highlight will bump it to the front of the queue on your profile, making it more visible and easier for visitors to your profile to find.
With well-designed Instagram Stories Highlights covers you can drive more views to your Highlights, while also creating a stronger brand aesthetic on your profile.
Conclusion
Instagram Stories is a valuable tool for social media marketers because it helps businesses connect with followers in a fun and personal way.
As Instagram continues to update and improve upon its Stories format, one thing is clear:
Instagram is THE platform for brands wanting to increase their sales, and Stories is one of the formats that help them get there.
Hope this guide helps you learn how you can use Instagram stories for business and make the most out of Instagram stories, and help your brand active its goals. Feel free to share your thoughts in the comments below.