So you want to build a WordPress website or blog in Nigeria, the thought of building your own website may seem overwhelming. You might even think this task is impossible for anyone but a developer or a person with a background in web design.
Well, I have good news for you — there's software out there that's so easy to use, virtually anyone can successfully create a unique and professional-looking website for their business, blog, or portfolio. It's called WordPress.
WordPress has officially passed the 39% mark and powers over one-third of the entire web. Creating a website may seem scary if you have never done it before, but trust me when I tell you that times have changed. It's now faster, cheaper, and easier than ever.
In this guide, we'll tell you how to build a WordPress website or blog in 20 minutes to an hour.
What Is WordPress?
WordPress is a content management system (CMS) that allows you to host and build websites. It contains plugin architecture and a template system, so you can customize any website to fit your business, blog, portfolio, or online store.
WordPress is by far the most popular CMS today. Its ease of use and versatility enable the majority of users and business owners to create a website that works for their needs. Here's how you can do the same.
How to create a website or blog: what you'll need
If you want to create a website, here's the entire process step-by-step:
Purchase web hosting and your domain name (we recommend Bluehost).
Install WordPress.
Choose your theme.
Add posts and pages to your website.
Customize your website.
Install plugins.
Optimize your website to increase page speed.
Make your website better. Instantly
Ready to create a high-performing website for your business? If you want to own a stunning professional business website with digital media strategy, or other consulting support, don't hesitate to contact us.
Step 1: Purchase hosting and your domain name
Making your free WordPress site accessible to people around the world requires two things:
✅ Hosting – this is the engine that powers your site, it's where your website files are actually stored. While you don't "see it", every single website on the Internet has a host powering it. Without a hosting provider, your site wouldn't have space on a server to "live."
✅ Domain – this is your website's address. For example, ours is thinkdigiads.com.
You can purchase your hosting and domain at the same time. But before you can do that, you need to choose a WordPress host. Because of WordPress' popularity, there are a huge number of WordPress hosts, some of the best WordPress hosting providers include WP Engine, Bluehost, and Kinsta.
We've personally tested the performance and reliability of many hosts. With the results of all these experiments in mind, we can recommend Bluehost to new WordPress website owners or bloggers.
Here's why:
It's affordable. You can host your site for the price of a small latte each month – it's just $2.75 (₦1,200) per month for your first 12 months.
You get a free domain name when you sign up. This ties in with affordability – your own domain would otherwise cost $10+.
You can easily install WordPress. With just a few clicks, you can launch the WordPress software and have a working website. No tech knowledge needed!
It has enough performance to get you started. When you're just starting out, Bluehost offers plenty of performance to keep your site loading.
All in, it will cost you about $33 (₦13,600) to host your website at Bluehost for the entire year, which includes your free domain name.
How to sign up for WordPress hosting at Bluehost
To get started, head to Bluehost's website and click on the "Get Started Now" button, you'll be taken to Bluehost plans.
For beginners, we recommend the cheap Basic plan because it packs plenty of power for your fledgling website or blog. Click the SELECT button to start the process:
On the next screen, enter the domain name you want to use for your blog in the new domain box and click Next. Remember – you get this for free:
On the final screen, you'll need to enter basic account and billing details at the top:
As you scroll down, you'll see a Package Information section at the bottom. Here, you can choose how many years of hosting service to purchase, as well as any add-ons that you want. While Bluehost will check some of these add-ons by default, you can safely de-select them:
All in, you should pay around $35 for your domain name and one year of hosting.
Once you've filled in all of the information, click SUBMIT at the bottom to complete your purchase.
Read More: BREAKDOWN OF WEB DESIGN COST IN NIGERIA IN 2021
Step 2: Install the free WordPress software
If you want to create a WordPress site or blog, you're going need to install the WordPress software.
When you completed the sign-up process in the previous step, you should have received an email from Bluehost with details on how to log in to the Bluehost Customer Area.
Go ahead and log in to Bluehost.
As soon as you log in for the first time, Bluehost will give you a simple wizard that takes you through the process of installing WordPress on your new site.
Don't see the setup wizard? No worries, it's still really easy to install WordPress with Bluehost. Just go to the My Sites area and click the Create Site button to launch the wizard:
Then, you'll be able to fill in all the important details for your site's name and the username/password that you'll use to manage your WordPress blog:
Once you finish the install process, you can access your new blog's dashboard by going to yourdomain.com/wp-admin.
3. Choose your theme.
Now that you learned how to install WordPress, you're probably excited to get designing or blogging!
We'll show you how to change how your site or blog looks and functions in a second. When you first log in to your blog's WordPress dashboard, you should see a screen like this:
You can customize your WordPress website using WordPress's many themes and templates, each of which contains a multitude of layouts, formatting styles, colors, fonts, and other visual options.
WordPress automatically applies a default theme that looks rather plain. You can keep it, but your website visitors may not be so impressed. A custom WordPress theme, whether it's paid or free, will make your website look appealing and professional to your buyer personas.
Whether you're looking for a theme versatile enough for multiple different business types, or one suitable for your eCommerce site, portfolio, blog, or business, there's a theme that will work for your specific needs. On top of your theme, you can further customize your pages with a builder tool like Elementor.
To find a theme that works best for you, head to your admin dashboard. Click Appearance, then Themes, click Add New to search for a free theme. You'll be brought to another screen where you can browse available themes or search for a specific one you have in mind.
Once you find the perfect theme, simply install it to begin customizing. Each theme has different steps required during the customization process, so be sure to follow them closely.
4. Add posts and pages to your website.
When you add content to your WordPress website, it's usually displayed in the form of posts and pages.
Posts (or "dynamic pages") are typically used for blogs and portfolios because they automatically place your newest website content at the top of your featured content. Pages are static, which is why they appeal more to business owners — the added content stays in the same place.
Posts and pages are the main post types in WordPress. Additionally, there are other native post types, as well as custom post types. For now, we can just stick to pages and posts.
Start by deciding whether you want a post or page to serve as the homepage (or any page) of your website. To add a post to your website, go to the admin dashboard, click Posts and then Add New.
This will launch the WordPress Editor, which lets you write your blog posts using a really intuitive block system.
To add text, you just click and type. For other content – like an image or an embedded YouTube video, you can add new "blocks".
You can add a title for your post, place photos, change the format, and insert page elements via blocks and shortcodes. Click Save Draft to save your changes as a draft, or click Publish to immediately take the post live.
Adding a page to your website is a similar process. In your admin area, click Pages, then Add New.
First, add a title to your page. Next, you can insert photos, embed videos, and add content. Follow the same steps to create multiple pages for your website. When finished, click Save Draft or Publish.
5. Customize your website.
Beyond the theme you choose, there are a number of ways to further customize your website.
First, let's customize your site title. From your admin dashboard, select Settings > General. Here, add your website title and tagline. You can also toggle other basic site information like your URL, email, time zone, and more.
Next, let's customize your reading sections. Under Settings > Reading, you can change your home page to a static page.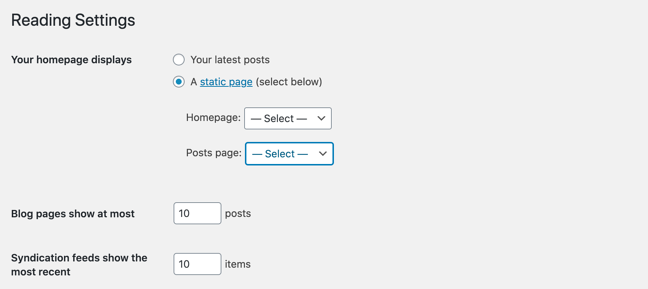 Consider this if you're a business owner who prefers having content remain in one place on your website. Consider using a dynamic page if you're a blogger who prefers having your newest content appear at the top of your pages. This way, your visitors can easily find your latest posts.
The navigation bar is customizable, too. This enables your visitors to easily find your menu on your website.
Add a navigation bar by going to your admin dashboard, clicking Appearance, and then Menus.
From here, you can determine how you want your bar to look, how many pages you want to include, what you want to title those pages, and what order you want them to be listed in.
Of course, this is just a fraction of what you can do in the dashboard — click here for more information on your WordPress site settings and customization options.
6. Install plugins.
Plugins are pieces of software that add functionality to your WordPress website and enhance the user experience. With over 55,000 available plugins, there are options for almost every type of website and user.
To begin the installation, head to the Plugins section in your admin dashboard. This shows you all the plugins currently installed on your site. Depending on your host, you might have several plugins installed already. Note that for a plugin to work you must activate it after installing.
To add a new plugin, click Add New. Search for your desired plugin and then click Install Now, wait a few seconds, then click Activate.
Must-have WordPress plugins for all sites
While there are plenty of niche plugins that are only good for specific uses, there are some must-have WordPress plugins that all sites, including blogs, can benefit from. Here are some of our suggestions:
⭐UpdraftPlus WordPress Backup Plugin
⭐ Google Analytics for WordPress by MonsterInsights
⭐ WP Super Cache
⭐ Yoast SEO
⭐ Wordfence Security
⭐ Jetpack by WordPress.com
⭐ WPForms
⭐ Optimole
Read More: Website vs Instagram Account – Pros & Cons
7. Optimize your website to increase page speed.
Website performance is a critical part of the user experience. If a page takes too long to load, your visitors will move quickly to another site. You don't want to frustrate visitors with slow speeds.
You can improve your website's performance by enabling browser caching. Browser caching is the process of temporarily storing your website's data on your visitors' browsers. That way, your content doesn't need to be sent from the web server for it to appear in the browser, which increases the website speed.
To enable caching for your website, install and activate a caching plugin with the process described above.
WordPress Website Tips and Tricks
There are a number of WordPress tips and tricks to make your website as impactful and user-friendly as possible — we've listed a few of them below to help you do just that.
1. Focus on the basics and create a great user experience with a WordPress theme that complements your business and website content.
2. Use dashes and not underscores when naming your files in WordPress. Google looks as underscores as joiners, meaning your file will look like one big word. That won't help you with your SEO. Use dashes to make it obvious there are separate words. (For example, use www.example.com/this-is-an-example, not www.example.com/this_is_an_example).
3. Use Image Alt Text to your advantage. Image Alt Text can be used to improve your SEO and Google rankings.
4. Keep your sidebar as organized as possible. Stick to the essentials and think about what your website visitors and buyer personas really need quick and easy access to.
5. Back up your website regularly, so if you ever lose access or have technological difficulties, you have everything you need to completely restore your content. There are a number of plugins, such as UpdraftPlus, made specifically for backing up your WordPress content.
6. Learn and understand SEO basics to ensure your website is completely optimized so you can boost your conversions.
7. Create a custom homepage. As mentioned earlier, WordPress will provide you with a default homepage. Take the time to create your own with a theme that works for your business — remember, this is your visitor's first impression of your business, blog, or portfolio.
8. Keep an eye on your website's performance and know what is and isn't working for your visitors. There are a number of useful WordPress plugins, as well as Google Analytics software, to help with this performance.
9. Include an "About Us" page on your website to show your visitors you're a trustworthy person and/or business. "About Us" pages are known to be the second most-visited pages on websites (after homepages) — so introducing yourself is important.
10. Make sure your site is secure to ensure there are no hackers gaining entry. Again, there are plenty of plugins such as WP Defender to help you with security.
11. Create custom permalinks. Permalinks are the permanent URLs that you plan to keep static for the foreseeable future. They're important because they improve user experience and enhance your WordPress website SEO.
12. Structure your website in a way that makes sense for your business, visitors, and buyer personas. For example, use posts if you're a blogger and use pages if you're a business owner.
13. Consider what your website looks like on mobile. It's no secret people are searching the Internet while on their phones, tablets, and other mobile devices these days.
14. Use visuals and video content when possible to break up the text on your website pages.
15. Update your WordPress site and plugins regularly. WordPress will tell you when updates are released. This will keep your website looking fresh and working efficiently.
16. Use social proof to show your new website visitors how many other people have already viewed your site and content. There are plugins to help you do this in a matter of minutes.
What to do after you create a WordPress website or blog
Ok, so you managed to create a WordPress site, install your own theme, and add some functionality with plugins. What next?
You'll probably want to look for ways to:
Get more visitors to your blog
Make money from your blog
Having a great website matters. It's how you connect with your visitors and leads, create a positive first impression with new users, and boost conversions. The good news is creating your own website doesn't have to be a daunting process…at least not with WordPress.
The easy-to-use CMS offers completely customizable plans suitable for all needs. With no prior knowledge necessary, you can start building your own site for your business, blog, portfolio, or online store immediately.
At this stage, you're already equipped with everything you need, so get out there, put some hard work into new content, and turn your new WordPress site into a successful blog!
If you need help with building your website or blog, social media marketing, or other consulting support, don't hesitate to contact us.